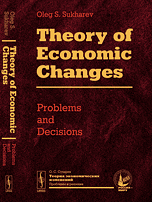 The book develops the theory of institutional changes and presents a new direction of economic analysis: the institutional macroeconomics. The author develops the concept of economic dysfunction and applies it to the description of economic growth problems, offers a model of competition between agents... (More)
320 pp. (Russian).
Second-hand.

Condition: 5-

.
Some non-traditional phenomenological approaches and methods are suggested for reconstruction of the analytical structure of observed processes and signals. These are, in particular, a family of methods for revealing latent periodicities, further generalization of the classic weighted least-squares method,... (More)
330 pp. (English).
Second-hand.

Condition: 4+

.
276 pp. (English).
Second-hand.

Condition: 4+

.
408 pp. (English).
Second-hand.

Condition: 4+

.
Total 8

---
We draw your attention
that the books marked as "
Advance order is required
" are not available for direct purchase. If some of such books are contained among the books you wish to buy, their price will not be immediately displayed and included in the total sum of your order. Within one day you will be informed (by email about availability of such books and the final price for your order.
The books bearing the mark "
In press
" can be added to your shopping cart, but note that their price and transportation do not contribute to the total cost of your order. This way we will be aware of your wish to buy these books and will inform you when they will be published.